Meet Dr Andrew Gorman (Chiropractor)
What do I really love about my job?
"You end up helping hundreds of people you've never even met."
A Big Career Change
I used to be a secondary school teacher before I became a chiropractor. I was teaching in Portugal when I had a problem with my shoulder. I went to a chiropractor and after six weeks I felt healthier, had more energy, was breathing more easily and felt more positive. In short, the results far exceeded my expectations!
My Passion
What I love about chiropractic is working with people. One of the great things about it is that the human body doesn't change or go out of date so, as a Doctor of Chiropractic, you only get better with time. When you help someone to get out of pain and to do the things they want, you end up helping a lot of people — the rest of their family for example.
If, say, a mother has headaches which make her short tempered due to being in pain all the time, it is difficult for her family. Once this stops her kids and husband start to benefit because the pain is no longer masking her personality and she can be herself. This is how you end up helping literally hundreds of people you've never even met.
The Challenge of Learning
I began my studies at the Royal Melbourne Institute of Technology in 2003. When I started out, I was surprised to find that I needed to follow a five-year medical course. When I got my timetable and looked at the subjects, I got a real shock! We had to complete a medical degree. I had no idea that it actually takes more university study hours to become a chiropractor than it does to become a general practitioner.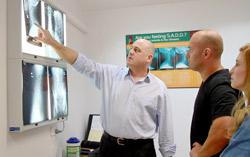 I quickly found out that back pain can be caused by things such as a kidney infection or prostate cancer. This means you need to know about the whole medical context to be able to do a proper physical examination and get the right results for your patient.
Once I realised this, I understood why it takes five years to become a chiropractor. I enjoyed studying anatomy and pathology even though it was challenging. I worked hard to complete my studies in just over three years, graduating with distinction.
Life Outside the Office
In 2013 we moved into our current office. It used to be a run-down building and we gutted and renovated it over a 12-month period, so that has taken a lot of my time. I like to swim and go to the gym and I've taken a course in life and business coaching. I enjoy learning and have two Master's degrees in education. I also like to relax by reading and spending time with my family.
Give us a call today and let's see how chiropractic care can change your life. 0405 726 096