About Andrew Gorman Chiropractic
A Family-Run Practice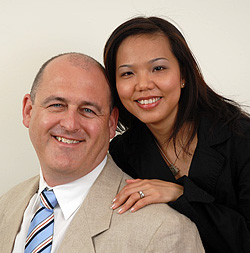 Dr Andrew Gorman (Chiropractor) has been in practice since 2006. He and his wife, Nhu, whom he met when he was working as a chiropractor in Vietnam, work together in their Logan practice that opened in 2013. Dr Andrew and Nhu say, "We always give a warm welcome and personalised service. In fact a lot of our patients end up becoming friends!"
How We Can Help You
We help a wide range of people, including couples and families. Generally, patients are in their twenties and upward. You can come to us with any issue such as headaches, neck pain, shoulder pain and sports injuries.
We will:
Conduct a thorough physical examination
Have a good look at your history
Explain exactly what we find
Give you choices about care
Offer appropriate solutions for you
We test and retest, to make sure people are feeling better when they leave. Dr Andrew's patients often tell him: "You know more than a chiropractor and are unlike any other I've seen before."
A Healthy Partnership
Our patients are interested in their general health and are happy to work with us in terms of diet and exercise in order to get out of pain. They aren't looking for a quick fix. They understand that working on an ongoing basis with their preferred health care practitioner will better enhance their health, their lives and the lives of those around them.
Communities We Serve
Most of our patients come to us from Logan and the surrounding suburbs, but we also welcome others from further afield. We're just off the M1 freeway, 20 miles south of Brisbane, so we're easy to reach.
Let us tell you how we can help. Call today. 0405 726 096